Sharing Information and Offers with your Sellers
Being able to share a property package with your sellers is a Pro feature.Learn more about other Pro features in Disclosures.io: 🔎 Disclosurs.io Pro Features
When you share a package with your seller they will be able to view any documents that you've uploaded to the property package as well as review offers submitted via Disclosures.io.
Seller's have a read-only view of the property package. They will not be able to add documents, use the DocuSign integration, and cannot respond or message any agents via Disclosures.io.
How It's Done
Follow these steps to invite your sellers to the property package.
Step 1- Click the Share Property button
This button is located in the property package below the address.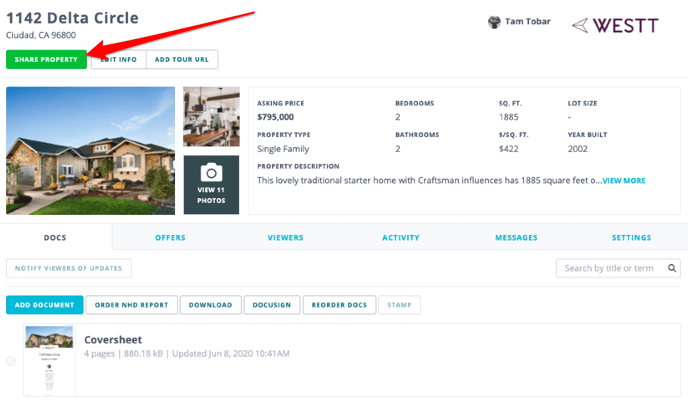 Step 2- Select their Role and Add Client's Information
By selecting the correct role you are ensuring that the correct permissions are given to your clients. When entering their email address be sure that no additional characters are added to the email. Your client's info (name and email) will always stay private to you.
You will have the option to add a personalized message to your clients before using the Share Property button.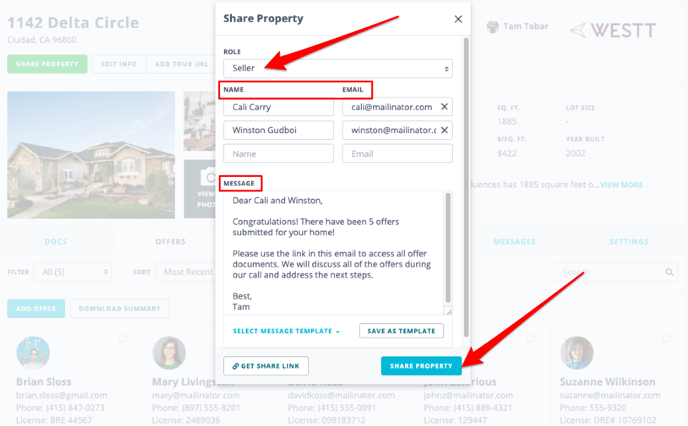 Your Seller's View
Your clients will receive an email invite to the package. When they click on the "Review Now" button they will be taken directly to the package. Your clients will not need to create an account and can get access to the package via this link.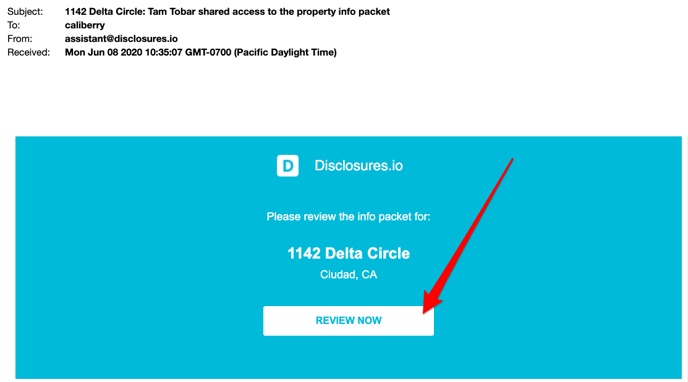 When redirected to the package the Seller View will show the documents uploaded to the package and the offers tab.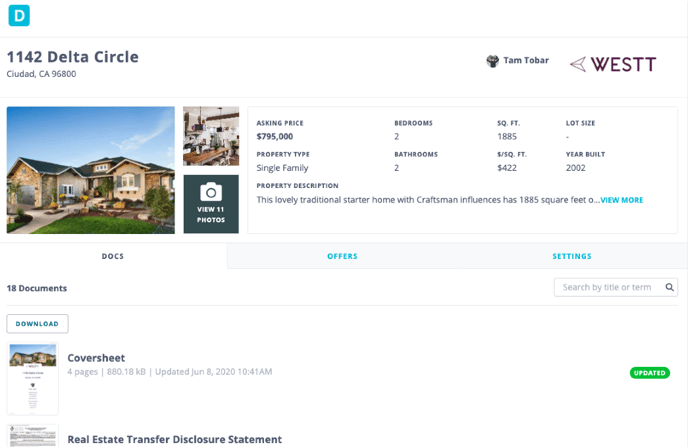 In the offers tab seller's will be able to see the summary of terms and can click to view the offers.
Seller's have a read-only view of offers. The options to edit, create envelopes via DocuSign, and respond to offers are disabled.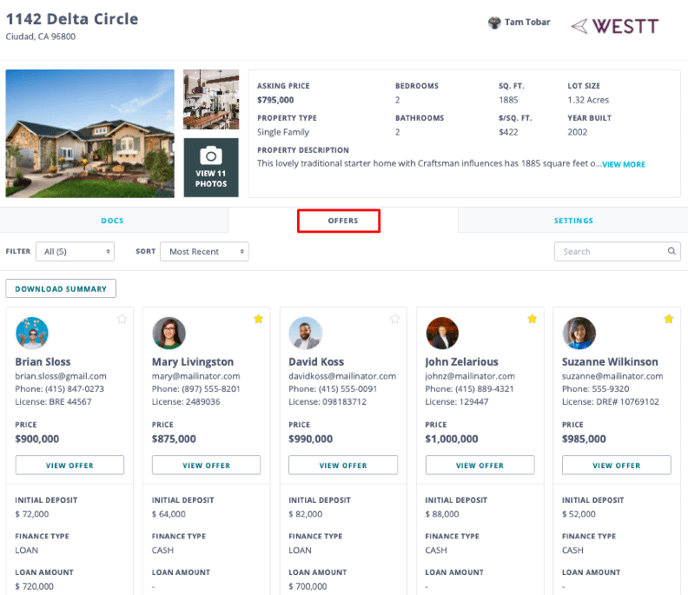 Seller's Reviewing Offers
Seller clients will be able to click into an offer and see all of the information provided by the buyer agent. If you have added notes under the listing team notes those would be added to the summary of terms and you client will be able to view them. Buyer Agents will not be able to view listing team notes.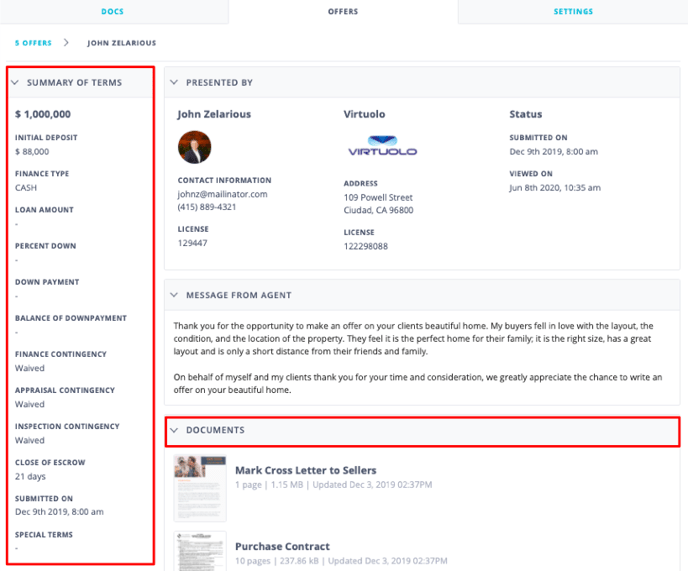 Activity Information
As a Pro user, you will also be able to see the activity that your seller clients are taking when they are in the package reviewing documents and offers. This information is confidential to you and the buyer agent will not see if a seller is reviewing the documents. You can type your seller's name in the search bar in the activity tab to review all of their actions.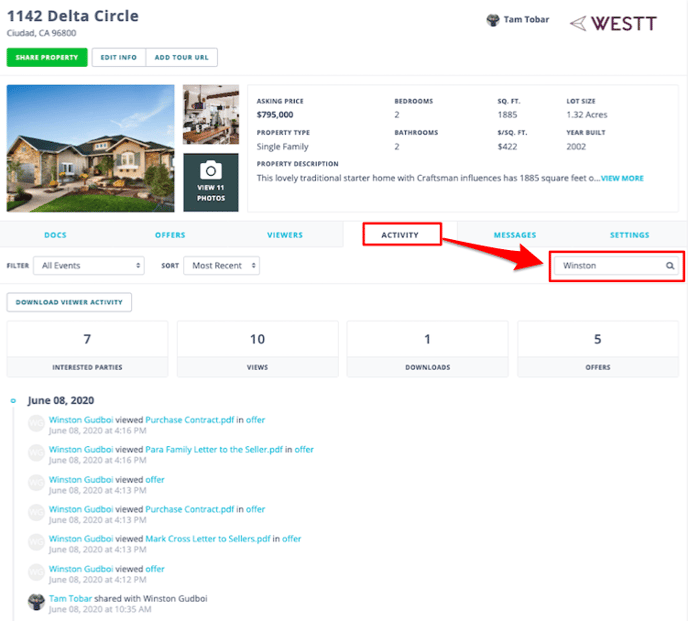 FAQ
Q: Can anyone else see the seller's activity?
No. The seller's actions remain confidential to the listing team.
Q: Are sellers notified when an offer is received?
Sellers will not be notified via email or text message if an offer is received. As a listing team member you will receive a notification, this allows you to review the offer then inform your clients.
Q: How do I get sellers to sign documents?
If sellers need to sign documents in an offer as a listing agent you'll need to use the DocuSign option to create an envelope with necessary documents.
🔎 Signing Disclosure Documents
Q: If I archive a property package do the sellers lose access to the documents?
Yes, when archiving a package the sellers will lose to the package. If sellers need access to the file we recommend that they download any information needed before it is archived.
🔎 Archive or Delete a Package


Q: Does Disclosures.io have marketing slicks/slides that can be included in listing presentations?
Yes! For marketing information to include in your listing presentation please send an email to support@disclosures.io with Request for Listing Slides as the subject.