Give Your TC Superpowers!
With Disclosures.io, you can create great looking disclosure packages and grant access to your Transaction Coordinator (TC). We understand how important it is to have a workflow that is efficient and allows you to quickly update, notify, and keep track of disclosures.
Here is a quick overview of what TC Superpowers are, how to collaborate with others, and your options for granting access to your account. Let's get started!
What can a TC do in Disclosures.io?
Create disclosure packets on behalf of Agents
Invite a co-listing agent or team member to have access to a disclosure packet
Upload and edit documents in the disclosure packet
Send documents out to clients via DocuSign
Share disclosure packets with interested Agents and Buyers
Manage multiple agent accounts through their own Disclosures.io account
What will a TC be able to do within a disclosure package?
When you give a TC access to your account or a disclosure package they will be able to do everything that you can do. This includes modifying package information, uploading documents, editing documents, sending documents out for signature via DocuSign, as well as closing completed files.
What does it mean when I "grant access to my account"?
You will be giving a TC access to all of the disclosure packages in the your account. This allows them to assist you whether your clients are sellers or buyers.
Does my TC need their own Disclosures.io Account?
Most TCs create an account for themselves (Basic free accounts are great for this). Once they have their own account, you can grant access to your account. There are two ways of doing this:
You can give you your email and password to the TC and allow them to login directly to your account.
You can grant access to your account through the security settings in your Disclosures.io profile.
When you give a TC access to your account, they can login using their own Disclosures.io credentials and navigate to your account. They will have the ability to create and share disclosure packages on behalf of you.
I just granted access to my TC but they can't see my disclosure packages. What's happening?
Be sure that your TC is selecting your account from the switch account option. They can find this by clicking on their name in the top right corner of their account. If your name does not appear double check your access settings to ensure the correct email address for your TC was added.

How Does My TC Request Access?
If your TC has a Disclosures.io account they can also use the Request Access option that will allow them to switch into your account. They'd just need to enter your name and email then select "Request Access to Account".

You will get an email notification and will be prompted to grant your TC access to your account.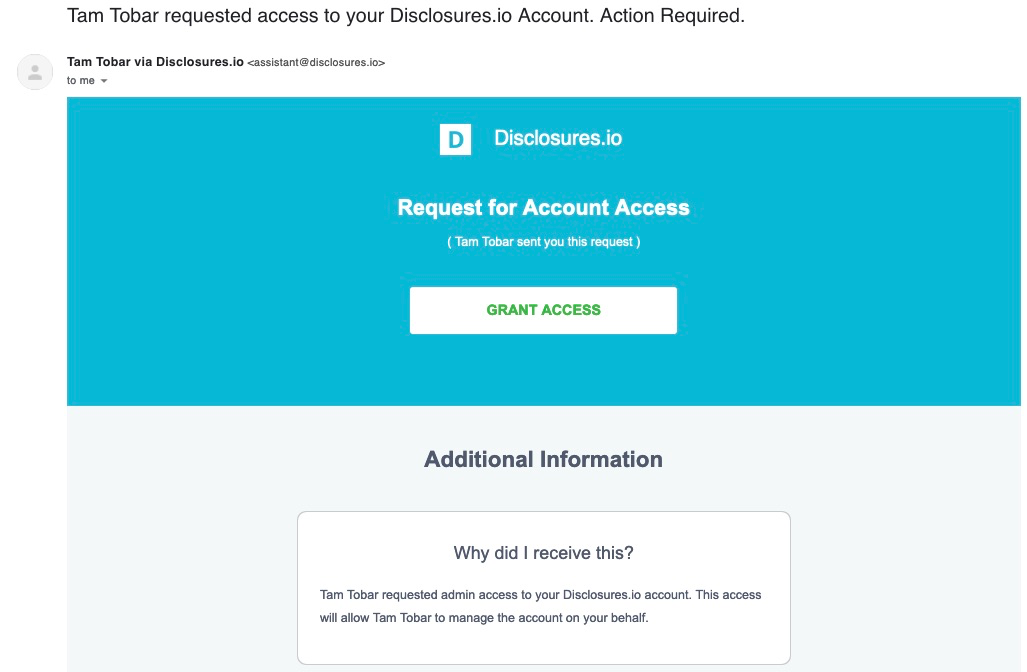 Once you click on grant access button in the email they will be redirected to Disclosures.io where you can choose to confirm or deny the request.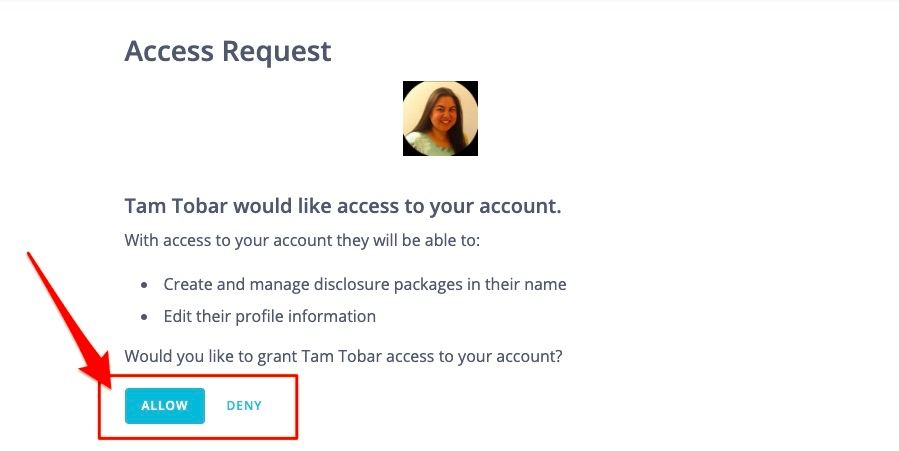 That's everything you need to know about using Disclosures.io with TC! If you have any questions that weren't answered in this article, please reach out to our Support Team. We are happy to answer any questions you have!