Grant an Existing User Access to Multiple Offices in Your Brokerage
As a Brokerage Administrator you will be able to add an existing user to any office within the brokerage account. This feature is only available to those who have access to Disclosures.io as a Brokerage Administrator.
If you are an Office Administrator you can add a user to any office you have access to. For more information check out this help article:
How It's Done
Step 1- Log into Disclosures.io
Step 2- Navigate to Brokerage Dashboard
Click on your name in the top right-hand corner and select your brokerage name. If you do not see your brokerage name this means you do not have access to the brokerage account as an Administrator.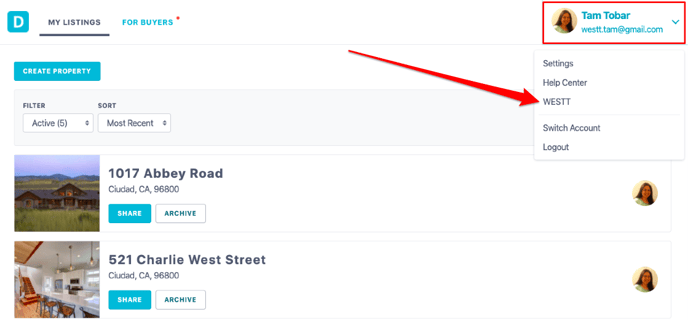 Step 3- Members
In your Brokerage Dashboard under the members tab there will be a list of all of the users in your brokerage account. There is a search bar on the right-hand side of your screen that you can use to search for an existing user. When you find the user click on the "Edit" button next to their name.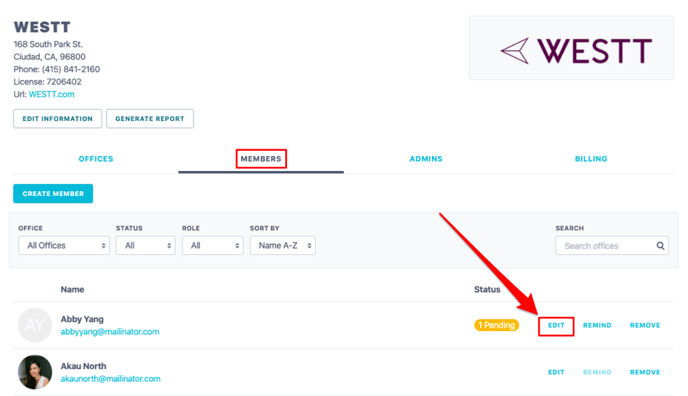 Then select the "Add User To Office" button.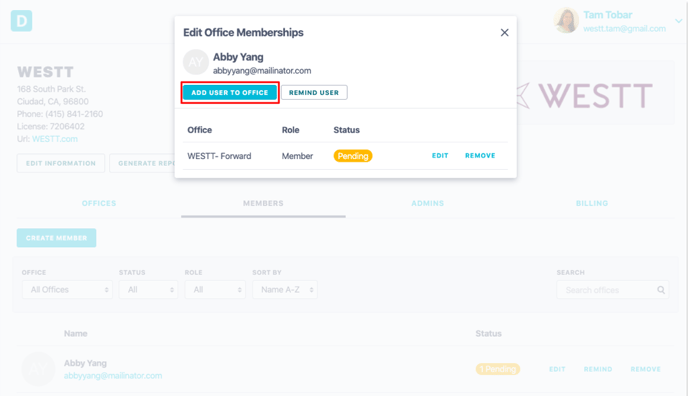 Step 3- Add User Information
When adding a user to another office select the name of the office and indicate what role they should have in that office. Once both fields are updated click the "Create Member" button.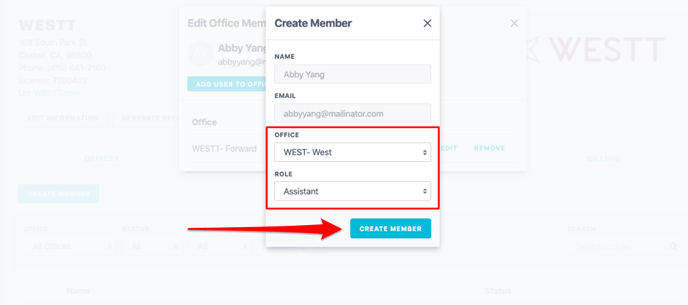 Step 4- Review User Information
When a user is added to another office you will be able to see the status of the invite for each office. You will also have the ability to edit their role and can remove them from an office if needed.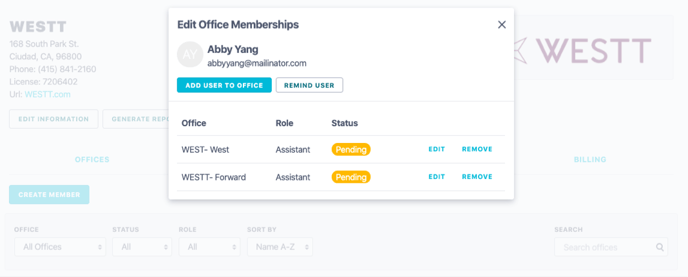 FAQ
Q: I need to add multiple users to an office. Can import users?
A: If there is a large number of users that need to be added to multiple offices please reach out to support@disclosures.io or your designated Disclosures.io Account Manager and they will be able to assist with getting those users added in a bulk import.
Q: Can I edit the users information after I've invited them?
A: Yes, you can do this by navigating to the Members tab in the dashboard and selecting the edit option next to the user's name.
Q: How long does it take for brokerage members to get access to the Pro Features?
A: Once a user accepts the brokerage invitation they will have access to the Pro Features.